Velteko's Vertical Form Fill Seal Machines. VELTEKO's sophisticated stand up pouch packaging machines are designed and optimized for the vertical forming, filling and sealing (VFFS) of doypack bag, doypack zip, and other doypack pouches.
For over 30 years Velteko have been perfecting the VFFS machine process through continuous innovation and development. Working as a professional partner with Proquip Solutions and many other prestigious companies throughout the world, the Velteko vertical packaging machines have fast become the most versatile in the industry.
As packaging quickly evolves with more and more products being packed into various standup pouch formats, Velteko continue to provide global producers of powder, liquid, and pieced products with packaging equipment that ensures the presentation of their high quality products remains effective and relevant in such a constant changing marketplace.
For a complete range of Velteko machines, please click on the link below: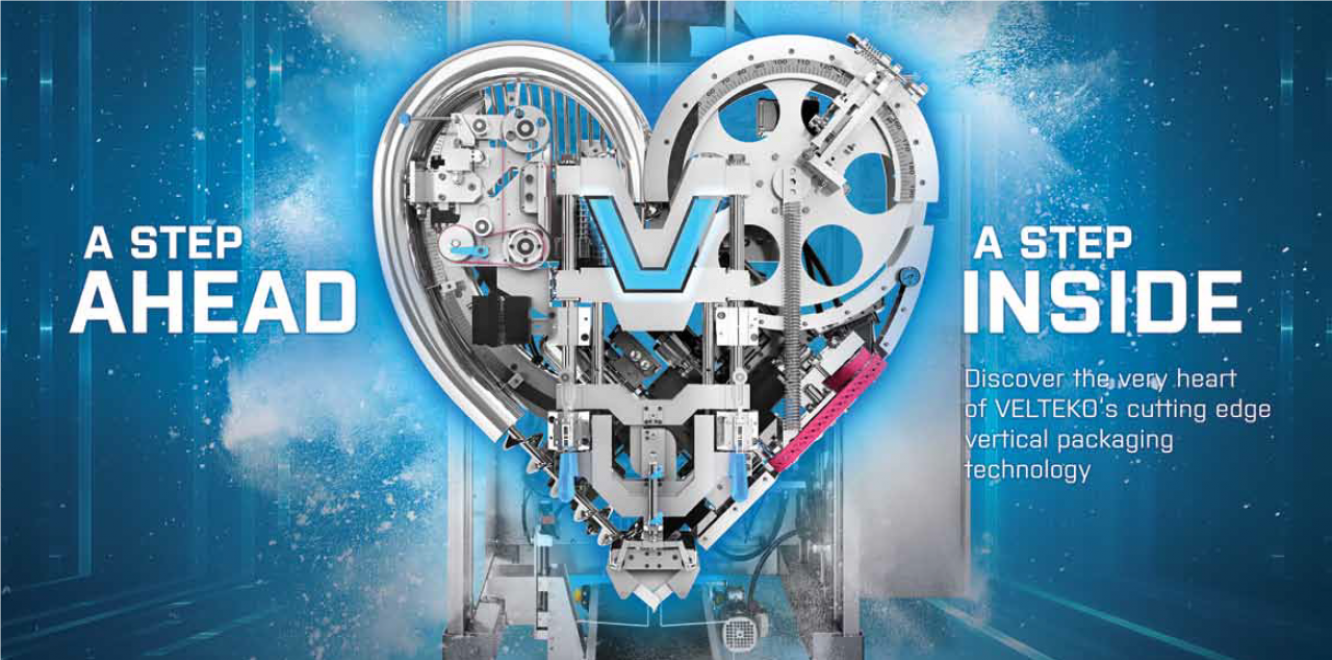 VERTICAL PACKAGING MACHINE EXPERTS
Velteko focuses on the development of efficient and reliable machines and continuously improve upon their design solutions to achieve the desired parameters. Intuitive controls and the use of high quality components from well-known global manufacturers are the hallmarks of their machines.
Features include
Streamline Ultrasonic technology
Velteko's powerseal technology
Human machine interface
VT + modules
Data Service Velteko

WHY VELTEKO
Velteko provides versatile packaging solutions that are custom-made to your individual requirements. The Vertical Form Fill Seal [VFFS] packaging machines enable producers to provide today's market with what it requires - a consistent and precise supply of pertinent and competitive packaging for their high quality products. Designed with industry-leading versatility, you can rest assured knowing that the Velteko VFFS machine you buy today through Proquip Solutions, is the packaging machine you need tomorrow.
Speed
Profit from superior speeds of up to 400 bags per minute!
Through stringent research and development, Velteko have produced advanced technology for every machine which enables them to reach the highest speeds found in the industry. By maximizing output and optimizing your operational time constraints, Velteko consistently delivers vertical packaging machines designed to package your products as rapidly as possible.
Reliability and long service life
A machine is only as good as the sum of its parts, which is why the Velteko VFFS machines are built using only the highest quality, branded components on the market to ensure their VFFS machines last for decades to come. Durability is designed into all Velteko VFFS machines through stringent design, advanced mechanical operation, and the use of these high quality components to ensure that you receive the minimum amount of problems and the maximum value from your investment.
Versatility
With an ever changing market, the purchase of any VFFS machine is an important decision. Not only should you ensure that it meets your current requirements, but it's essential that it meets the future, unforeseen requirements of an unpredictable market. That's why Velteko have engineered versatility into every Velteko VFFS machine.
The Velteko VFFS machines adapt to your individual requirements thanks to their ability to package a wide range of products into an unbelievably large variety of bags.
Velteko ensures that your next purchase choice is one you can safely rely on for many years to come.