www.gkspackaging.com
GKS Packaging focuses on simplicity through careful consideration of today's packaging challenges. Inventive simplicity solves these challenges in the easiest way: By delivering cost-effective, ultra-reliable, modular vertical form fill seal machines, designed to meet your requirements. After all, who wants a vertical form fill seal machine that is more complicated than it needs to be?
LEAF series - vertical form fill and seal machine for paper
It's a vertical form, fill and seal machine to produce, fill and close bags from flat paper from the roll and it's suitable for packing many types of food products. If paper is your packaging of choice, this might be a great option for you.
Ultra-reliable Vertical Form Fill (VFFS) packaging systems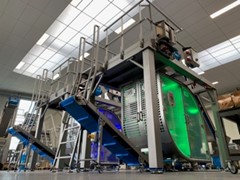 Features
100% developed for paper
High-pressure sealing
In-line net applicator
Special former set for paper
Modular construction
Allen Bradley PLC and electrical components
iPad interfaces on both sides
Machine status by smart LED lighting
Low CO2 footprint
For a complete range of GKS Packaging products, please click on the link below:
For further information on the LEAF vertical form fill seal machine, please follow this link GKS LEAF DESIGNED FOR PAPER