Established over 20 years ago in Germany, MultiWeigh is an international market leader in the development and production of high-quality combination weighers for the food industry. Partnering with Proquip Solutions, MultiWeigh is able to work both as an expert for Multihead Weighers in addition to a system provider for the entire packaging process.
MultiWeigh forms part of highly efficient process chains and production lines within the food industry. Their Multihead Weighers count, weigh and mix the majority of foodstuffs ranging from sticky cheese products, fresh salads, chips, frozen vegetables, to snacks and sweets, and cereal mixes. MultiWeigh also offer special solutions for pet food and non-food requirements.
The MultiWeigh application range is wide and unique on the market, offering not just Multihead Weighers, but a range of combination systems to compliment the entire packaging process. Pledging itself to meet the quality and reliability expectations of the end consumer, MultiWeigh has placed accuracy, speed, freedom from maintenance and the highest levels of hygiene requirements as key factors in ensuring high performance is provided at all levels.
Multiweigh weighers are equipped with the Direct Drive System. The "Direct Drive" uses stepper motors to operate the hoppers, which means that the weighers work without internal or external springs, resulting in a significantly increased accuracy and higher performance. Each "Direct Drive" actuator module has its own load cell with precision design. Each module has its own integrated electronic unit for the evaluation of the weighing signal and motor control. The system is maintenance-free, guarantees low-noise operation and thanks to its modular design, achieves particularly high production reliability.

Precision, reliability, hygiene & high performance
MultiWeigh understand that the characteristics of food products vary significantly in weight, size, flow rate or adhesion and require specialized weighing technology to ensure efficient packaging processes. Having a long-standing know-how allows MultiWeigh to offer the market's widest product range.
With 12 different Multihead Weighers and over 100 various specifications, MultiWeigh have already successfully implemented more than 800 applications.
Everything about Multihead Weighers
MultiWeigh are your expert for multihead weighers and entire packaging solutions. As an exclusive partner to MultiWeigh, Proquip Solutions will support you from the development of customized solutions through to the successful installation and commissioning. Following sign off, Proquip will always be at your disposal as local service support backed by the expertise of MultiWeigh in offering spare parts, site visits and the development of cleaning concepts.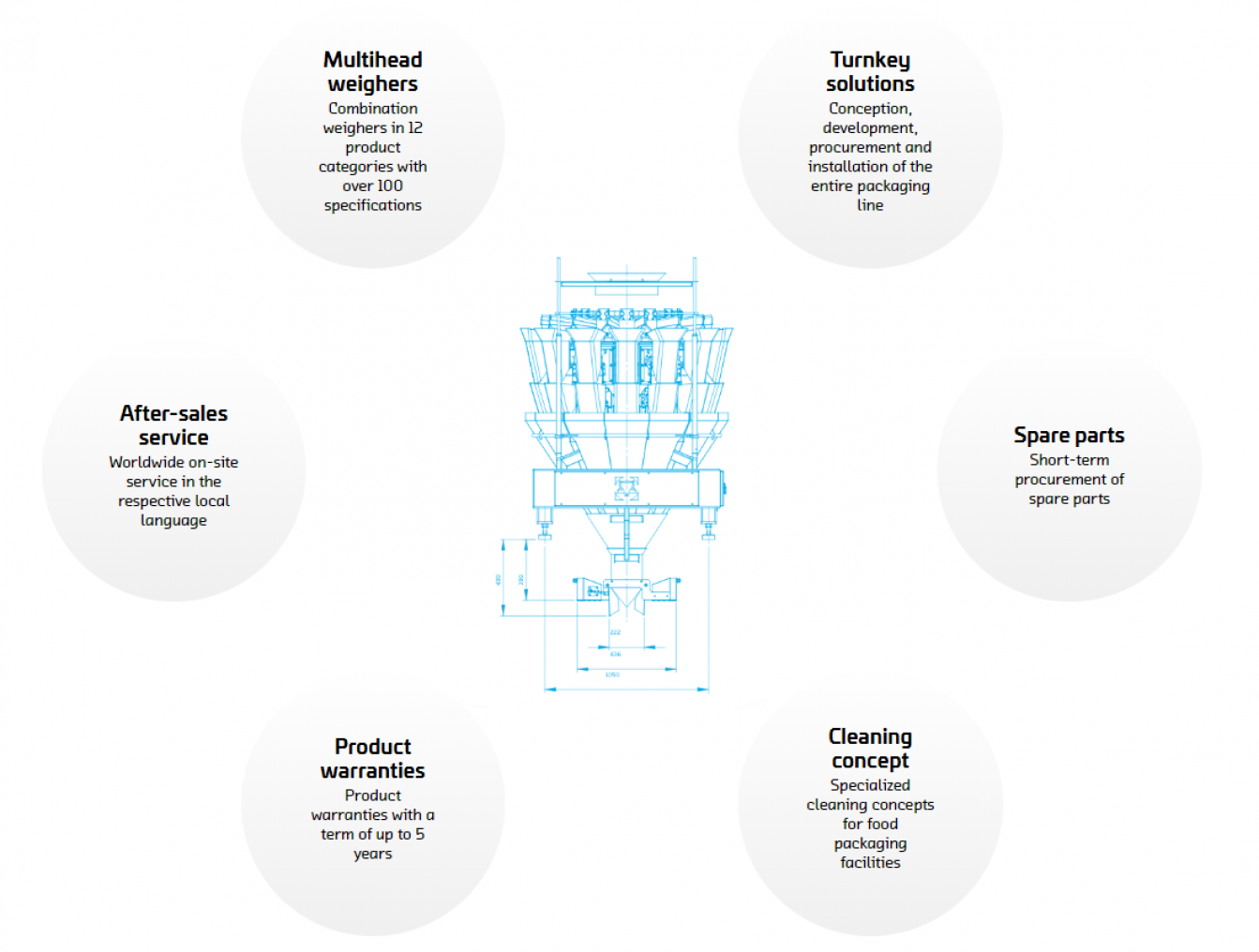 High-performance through technology
Leading hardware, software and control electronics
MultiWeigh is one of the world's technologically leading suppliers of combination weighers, their claim - Highest performance, hygiene standards, and ease of use. For example, MultiWeigh's MW-48 memory is the world's most powerful and fastest multihead weigher, which can control 72 weighing heads simultaneously.
High-performance
High-performance combined with most precise accuracy - that's what multiweigh® stands for. Having technology that allows the use of up to 72 weighing heads and a speed of up to 950 weighing cycles per minute with precise, fast hopper gate motion, is what makes multiweigh® stand out from the crowd.
Their counting and mixing function provides the ability to mix up to 12 components according to a given recipe during the weighing process. MultiWeigh offer proven special purpose designs for numerous applications such as fragile, sticky or granulated products. with the PTB approval MultiWeigh machines attain the highest quality standards.
Hygiene
With the food production sector being the main client base for Proquip and MultiWeigh, the highest hygiene standards apply to all of the Multihead Weighers. Not only are MultiWeigh meeting the legal requirements, but their facilities are available with ingress protection (IP67 +). With a unique selling point on the development of an exceptional cleaning concept for all of the MultiWeigh facilities, we would welcome the opportunity to introduce this to you personally.
Production reliability
As the Multihead Weighers have a modular design, MultiWeigh guarantee maximum production reliability. This allows for individual modules to be replaced in the event of a fault, while the Multihead Weigher continues in operation without interruption to the production. Having special features such as fault detection in the event of product adherence and low noise using the Direct Drive System, MultiWeigh customers are left inspired.
Cost efficiency
The added value of MultiWeigh combination Multihead Weighers is multilateral. In addition to the speed, precision and high performance, MultiWeigh are proud of a low maintenance intensity. For example, the hoppers are interchangeable on the Multihead Weighers, and product contacting parts can be removed without tools. Having installed thousands of Multihead Weighers throughout the world, some of which have been in operation for over 20 years, MultiWeigh can impressively demonstrate the particularly high cost efficiency through low maintenance requirements.